By: Catherine McKenna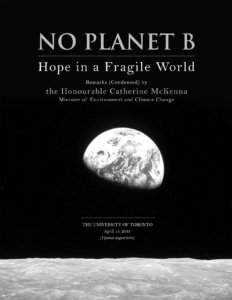 On Christmas Eve, 1968, one billion people around the world watched a live television broadcast. It was the largest television audience up to then. The grainy transmission came from the spaceship, Apollo 8, which was orbiting the Moon for the first time. The three astronauts described the Moon as no one had before. As one explained, the Moon was "a vast, lonely, forbidding, expanse of nothing … and certainly not a very inviting place to live or work."
On the fourth orbit, though, a strange and wondrous blue sphere came into view, rising slowly above the black lunar horizon. It was an arresting image – breathtaking, really – which made the three astronauts in their capsule momentarily forget the brown, cratered, dusty landscape just below. It was Earth. It was Earth as no one had seen it before, because, up to then, we had always looked up, toward the Moon, the stars and the sky. Now we had learned to leave Earth's atmosphere. Distance presented Earth, outside the spaceship's window that evening, as if reduced to a small, luminous marble.
The picture of Earth they took that night was called Earthrise. It was the first time we saw our planet whole with such clarity. With the sun's rays bouncing off the planet, as author Basil Hero writes, Earth was "a colorful beacon in the surrounding void … a kind of cosmic lighthouse fifty times brighter than the Moon."
Earthrise became the defining image of the early environmental movement. It showed a world glorious and dazzling, but also smaller and more delicate than we'd ever contemplated it to be. Looking at the photograph, you can't make out the continents or the rivers or the deserts or the mountains. You can't make out any country or border. There is no nationality, no economy, no race, no tribe, no language.
What does a photograph tell us? Archibald MacLeish, the poet, observed that in Earthrise we saw "the Earth as it truly is, small and blue and beautiful in that eternal silence where it floats, to see ourselves as riders on the earth together…." It confirmed visually the truth we have long known instinctively: the unity of our world, the oneness of humanity. From the perspective of space, our differences seem petty, our borders irrelevant, our future shared. We are bound to each other. It is our fate.
"There are no passengers on Spaceship earth," wrote the great philosopher, Marshall McLuhan. "We are all crew."
We are all crew.
Consider that for a moment. No nation is alone in the struggle to preserve our natural world and no nation is a free rider. We know that as the second largest country—bordered by three oceans, with the world's longest coastline, strung across six times zones, teeming with ecosystems—that we are highly vulnerable. In the environmental wars, there is no such thing as isolationism.
This is not the 1930s, when a parochial Canada, seared by history and insulated by geography, could remain silent in the face of authoritarianism and conflict. We confidently called ourselves "a fireproof house" protected from a world in flames. We thought we could dodge the danger. The Second World War taught us otherwise. We could not hide then, and did not hide then, against that mortal threat that we faced. And we cannot hide now, against the mortal threat of a warming world.
The threat, my friends, is no longer elemental. It's existential.
Let me underscore this. Canada is on the frontline of global warming. This is not just rhetoric or hyperbole. Read the report published in early April by Canadian scientists called "Canada's Changing Climate." It is stark, clear, and quite frankly, sobering. Temperatures in Canada, scientists conclude, are rising at twice the global average. We are in a climate crisis. Inaction isn't an option. Nor is indecision.
This report confirms what I have been seeing at home and abroad since I began this job in November of 2015. Three and a half years is nothing in the arc of time, but it is an eternity in the life of a cabinet minister— particularly one landing in a simmering debate over the world's rising fever.
There are plenty of scientific reports and briefing books to read but I have never had to look far to see the real-world effects of climate change. Last year extreme weather caused almost $2 billion in insured damage to Canadian homes and businesses. That's up 500 percent in just two decades. By 2050 climate change could cost as much as $43 billion. Climate change is as much an economic issue now as an environmental issue.
We live in a beautiful country – on an endangered planet. We are facing extreme, dangerous weather of all kinds, year after year. It is changing everything.
In our boreal forests, wildfires burn hotter and longer than ever before. Just go to the Okanagan Valley in British Columbia, Fort McMurray in Alberta, or Temagami in Ontario.
On the Prairies, droughts and floods occur with greater frequency, and produce greater devastation to the crops that feed the world. And not just on the Prairies.
Atlantic Canada faces rising seas, leading to powerful storm surges, more flooding, and disappearing coastlines.
The Gatineau River in Ontario and Quebec now seems to routinely overflow its banks. They called it a once-in-a-century occurrence, except these kinds of floods and storms are happening every two-to-five years now, as those who sell flood insurance know well.
I thought of that – and the consequences – as I worked beside desperate residents, filling and piling bags of sand, trying to keep Mother Nature at bay. I asked myself: "Is this the new normal?"
In the North, though, we see even more devastating consequences. In the Arctic, sea ice is thinning dramatically and disappearing. The North is warming almost three times the rate of the rest of the world. Global warming is changing the places where Inuit have hunted for generations.
Ice roads—some 3,300 miles of them, serving as lifelines to communities—are melting earlier, stranding communities. On the land, the permafrost is warming, threatening essential infrastructure, and emitting ever more carbon into the atmosphere.
The issue was boiled down to its essence for me at COP 23 in Morocco, when I heard an Inuit elder say to the leader of a small island state: "So, my homeland is melting, and it's causing yours to go underwater."
At home, I've heard heartbreaking stories about what a changing climate means for Inuit. On a visit one summer to beautiful Tallurutiup Imanga1 – also known as Lancaster Sound (which we are designating as an Inuit protected area)—I met Carter, an Inuit boy, then fourteen years old. He sat down beside me and showed me a list. "I want to tell you about some changes I'm seeing in my community," he said. "I think they're caused by climate change." He said that polar bears there are coming into town more and more often to forage for food. When he goes hunting, his foot gets stuck in quicksand, where the ground was once frozen permafrost. The caribou have disappeared. And his saddest example: his friends' fathers going hunting but never returning home because they had fallen through the ice. As he looked at me, I know he was asking: "So what are you going to do about it?"
I ask myself that question every day. I ask it because I have come to learn—in a way I did not before— how the environment is real for Canadians. It's not abstract or distant. The environment is personal to farmers, fishers, hunters, loggers, trappers, lodge-owners and tourist operators. In our big, cold country on the upper half of the continent, the environment affects where we live, how we work, how we see our future. As change happens, the future rushes toward us. It can be overwhelming, confusing, frightening, but also wonderfully motivating.
In this job, which I was surprised to learn recently that I have now held longer than any other minister of the environment but the incomparable David Anderson, I have come to understand that saving the planet is not necessarily only about saving the whales or the Western Chorus Frog—though try we must.
It is about saving people and their way of life. Natan Obed, Canada's national Inuit leader, explained this to me as I marveled at my first sight of a polar bear in the Torngat Mountains in the Arctic. He reminded me that ultimately, it's about people.
A sustainable world without a sustainable economy, where all people have the dignity of a decent living, is no world at all. At the heart of my job are people, which includes our children. We have to think about the world they inherit from us. I have three children, and I think of them all the time, wondering what we're leaving them.
So it's essential for us all to ask: What can we do? What should we do?
I didn't have much time to reflect on this in November 2015, when three days after I was appointed to cabinet, I was off to Paris. to represent Canada at the UN Framework Convention Climate Change. Everyone kept referring to it as "COP" and I was a little embarrassed that I didn't know what a "COP" was, though I was pretty sure it was not a police officer. Someone had to tell me it's "Conference of the Parties". (In my first ministerial act, I banned acronyms.)
As you can imagine, the experience was nerve-wracking. Ten days earlier I was a private citizen running for Parliament. Now I was a Minister of the Crown. Our delegation, I am proud to say, included Indigenous Peoples, premiers (quite a different crowd than we have today), members of the opposition, environmentalists, youth, and business leaders. We wanted to bring people together again.
When it was clear that Canada was back at the table, after a decade of absence, the French invited us to join a smaller working group to address one of hardest issues of the Paris Agreement, during the last week of the meeting. With the support of the Prime Minister, and a circle of experts and advisors, we plunged into the talks, negotiating through the night.
Despite some very tense moments, 196 countries managed to reach an ambitious agreement. After years of negotiations, for the first time, countries agreed that we needed to keep global temperatures well below two degrees, and everyone agreed to do their part.
My most rewarding moment in politics was when French Foreign Minister, Laurent Fabius, gaveled down the conference and announced that we had reached a deal. We were all exhausted, but the whole room erupted in cheers.
And then we spent a year negotiating a made-in-Canada climate plan with the provinces and the territories. It's tough, especially in today's political climate, and progress takes time. I have learned how hard it is but let me say here: we have a practical and responsible approach that is the most ambitious climate plan of any Canadian government. It has a clear trajectory to meeting our targets by 2030. It is hard. Especially after a decade of going in the wrong direction under the Conservatives. But we are bending the curve – with existing measures (and despite backtracking by some provinces), we are three quarters of the way there already. These measures are the equivalent of taking over 50 million cars off the road. And with new measures including historic investments in public transit, strong support for clean innovation, a commitment to double the lands and waters we protect and a commitment to zero plastic waste, and our zero-emission vehicle strategy, we are on a path to get there. Collectively, we have already achieved so much.
And yes, like all countries we need to do far more. But let's be clear. We are being opposed by Conservative politicians who don't want to do anything and a few special interest groups who don't believe there is a crisis. Our government is pushing as hard as we can. And what helps most of all is for Canadians to support climate action and to tell politicians of all stripes that they are concerned about climate change and believe that we need to do more.
So what are we doing, specifically, to fight climate change and reduce emissions? Let me tell you.
We are phasing out the use of coal power by 2030, which generates nine percent of electricity but seventy-two percent of the sector's emissions, and have one of the world's first Just Transition task forces to ensure that the transition from coal power to clean energy is a fair one for coal miners and their communities.
In this, organized labour has been critical to finding ways to make this historic transition with fairness and compassion. Getting off coal is a big deal. Few countries are acting as aggressively as we are. Some can't, some won't. We are.
We are investing in renewables to power Canada towards 90 percent clean energy by 2030. This is top in the G7.
We're helping municipalities, big and small, build infrastructure that helps reduce emissions and create jobs2.
And we're investing in the clean tech sector, helping Canada seize opportunities that can mean millions and millions of dollars for our country. The world needs Canadian ingenuity to tackle the challenge of climate change. It also creates good jobs here in Canada! Do you know there is a $26 trillion opportunity of clean growth? Canada can lead the way.
The centrepiece of our climate plan is the price on pollution. In 2019, it is no longer free to pollute, anywhere in Canada. Putting a price on pollution uses the market to create an incentive for businesses and Canadians to save money by making cleaner choices.
In this province, and three others, the premiers claim that it is "unconstitutional, illegal, unfair or immoral." Sadly, today we were in court with them over it3, because Premier Ford would prefer to spend $30 million fighting climate action rather than fighting climate change. They claim that it's a cash grab, that it doesn't work. They're wrong. Dead wrong. And they know it.
They know we are returning all the money to Canadians—$307 for a family of four here in Ontario when you file your taxes this year. Almost all families will get back more than they pay, and the families that are less well off actually do even better in this system. Our focus has always been on supporting middle class families and those working hard to join them. That's why we introduced the Canada Child Benefit which has raised nearly 300,000 children out of poverty, that's why we increased taxes on the 1% so we could reduce them on middle class families, and that's why we lowered the small business tax rate. Of course, you won't hear this from Mr. Ford and his Conservative friends.
The Globe and Mail's Gary Mason wrote: "There is not a debate in the country right now filled with more dishonesty and misinformation than the one around carbon taxes."
In Doug Ford's Orwellian world, gas stations must now display stickers at the pumps (under threat of a $10,000 fine) misleading Canadians on the cost of the price on pollution and ignoring the money we are returning, which is all of it. Watching Andrew Scheer pull up to a gas station and deplore the price on pollution, wilfully misrepresenting what it is, I wonder: "Why do you think it's okay to say things that are patently untrue when this is about the future of your kids too?"
Economists, including the most recent winner of the Nobel Prize, have shown that putting a price on pollution is the single most effective way to reduce emissions. In British Columbia, which has a carbon price for over a decade, the economy is growing while emissions are trending down. Over 20 Canadian companies – from major banks to energy companies, to consumer goods companies – have joined the World Bank's Carbon Pricing Leadership Coalition. They recognize that pricing pollution is an essential tool in the fight against climate change.
Something else on climate change: women are at the forefront of this fight and we are supporting their leadership. I recently held a conference of women climate leaders from around the world, representing public, private, academic, and civil-society sectors as well as Indigenous communities that I called "Women Kicking it on Climate". Canada is training women negotiators from francophone developing countries. Most of Canada's negotiating team, including our lead negotiator, are remarkable women. We helped land the Gender Action Plan under the Paris Agreement to ensure that development assistance programs recognize the disproportionate impact of climate change on women, and the need to empower women. This is another reason that I am proud to serve in the government of Justin Trudeau, which has done more to advance the cause of women than any other.
We have made progress on other fronts on environment and nature. One is National Parks, which happen to be my happy place. Visiting them reminds me of being a girl, in a canoe, on a lake. But also today, taking my kids through the waters of Gwaii Haanas and other jewels. The wealth of Canada is our wilderness. We are committed to preserving it – and inviting Canadians to experience it.
That's why we lifted admission fees to all national parks in 2017, on Canada's 150th anniversary. It's also why we have made the parks free for children 17 and under, and free for new Canadians to visit for a year. It's why we expanded Bruce Peninsula National Park and created the Rouge National Urban Park, the first urban national park in Canada. Accessible by TTC, it opens seven million residents of the largest metropolitan area in the country to woods and waters that they can reach easily.
You know, if it were up to me, I would create a new park every month4. I envy Jean Chrétien, who tells me that that in the 1970s he could establish a park almost on a whim. He considers creating ten parks as Minister of Indian and Northern Affairs his greatest legacy. Mr. Chrétien is thrilled with our government's commitment to spend $1.3 billion to protect our land, our oceans and our wildlife. It is the largest investment in nature in Canada's history and will help us double the amount of protected nature in Canada, including across our oceans5. It will also help us tackle the huge challenge of species-at-risk. A report came out last fall that the world has lost 60% of its biodiversity—our plants, animals, and nature—since 1970. We have no time to waste.
That's why our government has made protecting nature, ecological integrity, our wilderness, and our wildlife a priority. We are taking important steps like restoring bison to Banff National Park, which is also important in advancing reconciliation with Indigenous peoples. And cleaning up Randle Reef, in Hamilton Harbour, one of the most contaminated sites on the Great Lakes. You may not remember what Hamilton Harbour was like in the 70s and 80s, when I was a kid, but it's always been my dream to swim in Hamilton Harbour one day, without needing a tetanus shot.
Protecting the environment is also at the heart of Bill C-69, Canada's Impact Assessment Act, which sets better rules for major resource projects. We have a $500 billion opportunity over the next decade to bring our resources to market, but we'll lose that if we can't make sure good projects can move forward.
Here's the thing: critics say Bill C-69 will make it harder to develop resource projects but the system that we inherited from the Conservatives weakened Canada's environmental protections, undermined science, and denied Indigenous peoples and other communities a say in decisions about major resource projects. It left us deadlocked and divided.
By introducing better rules for major projects, our environment will be cleaner and our economy stronger. Making decisions based on robust science, evidence and Indigenous traditional knowledge, respecting Indigenous rights, and ensuring more timely and predictable project reviews will create good jobs.6
Another major focus of my work has been tackling the global problem of plastic pollution. We have too much single-use plastic that ends up in our oceans, lakes, and rivers. And that's value we're throwing away, billions upon billions of dollars globally each year. No society can accept such wastefulness. The World Economic Forum estimates that eight million tons of plastic find their way into the oceans every year; that's the equivalent of one garbage truck dumped into the sea every minute. And it's expected to double by 2030. This is fatal for marine life: seagulls mistake plastic for food and ingest it, clogging their systems.
The Oceans Plastic Charter that Canada championed during our G7 presidency last year now has 20 governments and 60 organizations and businesses signed on. As a federal government, we're looking at all the tools we have, working with provinces, territories and municipalities including eliminating unnecessary single-use plastics (as we did with our micro-beads ban last year), supporting innovation, and ensuring producers are responsible for their pollution7.
We will do all of this to protect our environment – and more. For me, it is a commitment I feel deeply. And it's personal. It is the best answer I can give Carter, my Inuit friend, but I know—I know—that it's still not enough.
We have no choice but to act. And we must act ambitiously, as if our lives depend on it. Because they do. We got ourselves into this mess and we must get ourselves out. There is no Planet B. There is no other world to which we can go – at least not one we know in 2019. There is no Noah's Arc to buoy us amid rising oceans and swelling rivers. As much as we would like, none of us can demand: "Stop the Earth, I want to get off !"
As Maurice Strong reminds us, we have only borrowed this planet. We don't own it, though we sometimes act that way, to our shame. We have no licence to destroy it. As minister, it is my responsibility to protect our environment from forces that threaten it, and us. But it is your responsibility, too. It is the responsibility of the provinces, cities, Indigenous c o m m u n i t i e s , businesses, and all Canadians, to understand the environment, preserve the environment, improve the environment. This is the new obligation of citizenship in 2019. This is as much a part of being Canadian as voting, volunteering, paying taxes and obeying the law.
As Minister I have seen, with frightening clarity, that time is short. By one reckoning, we have just over a decade before the Earth reaches a tipping point from which we cannot recover.
I believe that this is a climate emergency. A number of cities in Canada agree, too. To do nothing is to fiddle while the world burns. Conservative politicians stage stunts, offering "solutions" without sacrifice, ignoring the extraordinary costs of climate change. Let's be clear: in the 21st century, if you do not have a plan for the environment you do not have a plan for the economy.
The experts do not lie: they know, as do I, that the environment is the greatest issue of our time. It is to this generation of Canadians what national unity was to the last one, although, sadly, some are trying to make this a national unity issue. We can address it with laws, yes, but the environment is less a legal question than a moral one. It is a question of morality. Saving the planet cannot only be about taxing, penalizing, and enforcing rules, regulations and codes of conduct, much as we need them; it must also be about the higher law of humanity as we struggle to preserve ourselves. Or, perhaps, to save ourselves from ourselves.
Personally, I have come to see the morality of conservation. The Pope sees it that way, understanding our obligation to protect our common home. So do I. One need not be a Christian, Jew, Muslim or any other faith to see the moral imperative of the climate challenge, and the practical imperative to meet it.
Of course I can say this, and bring the weight of my office to this commitment, understanding that much as I want consensus, I cannot command it. My name is Catherine, not Canute. I can't stop the tides. I can never please everyone, left or right, in a world riven with dogma and driven by ideologues. I love this job, but the debate can be testy and mean. To be honest, it isn't flattering or funny to be called "Climate Barbie" (heck, I didn't even play with Barbies as a kid), and I have called out critics for using it. Social media has its virtues, and I use it, but it can be a cesspool of misogyny, hate and prejudice, too.
Criticism comes with the job – and with this much at stake, there are honest differences of opinion. Two weeks ago I saw this first-hand at a town hall in my riding. A dozen or so protesters unfurled banners and took to the microphones to criticize me for not shutting down the oil sands and the TransMountain pipeline expansion.
I know that the passion of those protesters is essential in the fight against climate change. Without their fierce efforts, we wouldn't have as many Canadians demanding more action to protect the planet and its people. But what the country really needs more of – right now – is for everyone with passion for protecting the planet to try to look for ways to advance things together with a broad cross-section of Canadians – including with those who make their living in oil and gas, and who are understandably anxious about the low-carbon economy of the future.
Canada needs the resourcefulness and imagination of a broad coalition of those willing to push beyond what's familiar, comfortable and easy.
Because we're all in this together, we all created the climate crisis, and it's only right that we look out for each other and listen to each other, as we search for solutions. I'm the Minister of Environment not only for environmentalists but for oil workers, small businesses, farmers and also, for the children of Canada, who have the greatest stake in this debate and whose interests are often forgotten.
A shift to a cleaner future demands a spirit of understanding for those who don't know what this will mean for their future. What does that look like? It means recognizing that livelihoods and communities are in jeopardy; it means helping those who want to apply their skills in another field; and it means thinking how we adopt cleaner energy, like wind and solar power. Anything less is pitting Canadian against Canadian – it's not how we should do things, and it's bound to fail in any event.
Still, those protestors had every right to be there. I'm glad they were there. The same way I am so happy to see young people striking for climate action. They are marching in the streets today, demanding more from their governments, not less. Uncomfortable as protest is, I like their passion. I'm serious here. They want a cleaner environment. My God, so do I. They make me us better, they push us to work harder. We need them.
Let us remember that wherever we come from, this is our home. Mr. Chretien, who comes from Quebec, loved to say "my Rockies." He is laying claim, emotionally, to a part of the country far from Shawinigan. I feel the same about those Rockies. And the foothills of Saskatchewan, the Eastern Townships of Quebec, the shores of the Bay of Fundy, Hamilton Harbour, and Sable Island in the Gulf of the St. Lawrence. I hope we all feel that sense of a country belonging to everyone, regardless of where we live. And with that, I hope we all share a responsibility, as heirs to this natural bounty, to become its defenders.
CONCLUSION
This position has been the honour and the challenge of my life. It has allowed me to reflect on the state of the Earth – our fragile, yet resilient Earth. To savour the magic of our planet. To recognize what threatens it, and us. And to consider what tomorrow could bring.
Amid the gathering gloom, I remain an optimist. There is no Planet B, yes, but I believe if we try very hard, we will save this one.
The challenge we face is daunting. Facing it, I think, will take some of the lessons I learned in the pool here at the University of Toronto. For us it was about setting goals, supporting each other, sharing responsibility. And then, working our hearts out, with our teammates, every day, understanding there will be defeats, disappointment and despair, but there will be joy and triumph, too. Always, always, we must keep our eyes on the prize.
Saving the planet – and that is our mission —will take the foresight of my predecessors—and my successors—as Minister of Environment and Climate Change. It will take the diplomacy of Brian Mulroney on acid rain and the vision of Jean Chretien on national parks. It will take the technology that took us to the Moon, fifty years ago, there to discover the Earth. It will take innovation that laced this country with railways, opened the West, built great cities, and welcomed people from everywhere to this big but blessed place
It will take the ambition Canada showed in fighting two great wars and later, helping create the post-war international architecture of collective security, free trade and multilateralism. It will take a new sense of citizenship and national duty, harnessing the brilliance of our scientists, the genius of our industry and commerce, the adaptability of our people.
But most importantly, it will take Canadians coming together for a cleaner future. But let's be clear – this won't happen if those who care don't demand ambitious climate action. We Canadians have a reputation of being quiet, apologetic and polite. But there is no being quiet on climate action. There is no need to apologize for fighting for climate change. Speaking out is not impolite.
If you want climate action, talk with your family, friends and neighbours. Talk about the risks of inaction, and the economic opportunity of clean growth. And talk about what we all value – clean air, clean water, and a sustainable future.
We can tackle climate change—and we must.
Success will not come immediately. And it will not come without humility, unity, hope and courage. After all, there is no free ride on the Spaceship Earth.
We are all crew—and the fate of our world, broken and beautiful, is still ours to shape.